Announcing "The Couple Project"
written by Nathan & Kelli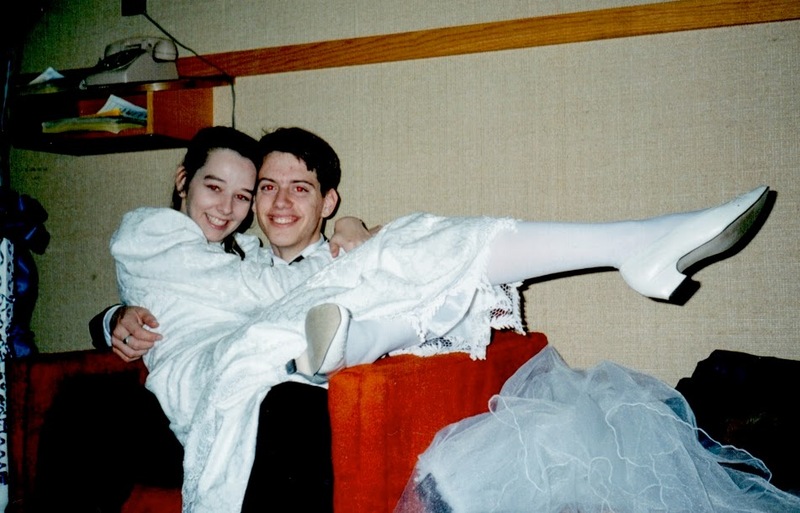 We, Kelli and Nathan, started "The Couple Project" to increase our focus on improving our relationship, and to help you improve yours. Our goal is to learn what makes a marriage stronger and then put those ideas into action. Sharing which things work, and which don't.
Some of our goals, right from the start of our marriage, were to be united, share everything, grow as individuals, provide for our family, raise our eventual children, and love each other. Every single one of these goals turned out to be much more difficult than we originally thought. We got married at 19 and had a lot of growing up left to do. But along with the challenges we have had a lot of success. We put ourselves through university (Nathan has a M.Sc., B.Sc., and a B.Mgt), are in the process of raising 8 children, and have had successful careers for nearly 20 years. Our first 25 years of marriage have been full of growth, challenges, and accomplishments. Now, the goal is to make the next 25 years even better.
The plan for "The Couple Project" is to create a specific focus each month. Study that topic, decide what things we will put into action, and then exercise our couple muscles to become stronger. We hope that by writing about what we are working on, you will be able to strengthen your relationships at the same time. We would love your feedback, support, and stories.
Our vision for our relationship is of a very tight knit connection. One where we share everything with each other, no secrets. Where we push each other to be better, we don't ignore our weaknesses. We are not two ships sailing the ocean somewhat close to each other, instead we are both in the same boat learning to paddle together.
Building a healthy relationship requires communication, trust, and empathy. This is, in many ways, the core of this project.
Building a healthy relationship requires healthy individuals. As a result many of the things we work on are designed to build ourselves up as individuals.
Finally, we want to be productive and live a good life. As a result, this project will also be focused on improving our ability to get things done and learning to focus on the important things, while also learning to say no to the things that are of a lower priority.
This project is a work in progress. We don't know what will work and what won't, but that is the point. Learning what works - being willing to try out new ideas, and determining if they are helpful or not.
---
Selected Articles from "The Couple Project":
We
‡
Creating a Couple Bubble to Strengthen Your Marriage
‡
Saying "No" Is Vital To Honesty
‡
Your Spouse Isn't Evil
Communication
‡
The Guiding Principles for Our Relationship
‡
Stay Connected Through the Day
‡
"Wired for Love" - Book Review
‡
Your Spouse Isn't Evil
‡
"It Takes Two To Argue" Is A Toxic Thought
Service
‡
What We Learned About Acts of Love
‡
"The 5 Love Languages" - Book Review
Dreams
Growth
‡
Ideas for Reducing Defensiveness in Your Relationship
‡
"Being Wrong" - Book Review
‡
Course corrections are normal
‡
A Few Keys to Gaining Knowledge
‡
6 Ideas for Creating Lasting Habits
‡
Three Routines That Have Improved Our Life
‡
Four Ideas To Improve Your Sleep
Gratitude
‡
Choose to Be Grateful for Your Spouse
‡
Why I Am Happier With Fewer Clothes
Healing
‡
Your Spouse Isn't Evil
First Things First
‡
The Guiding Principles for Our Relationship
‡
Take Care of the Little Things
‡
Decluttering
‡
How we are making family more important than food
‡
The Lie of Multitasking
Sex
‡
Say Yes, Enjoy Sex With Your Spouse
‡
"31 Days to Great Sex" - Book Review
Money
‡
"The Wealthy Barber Returns" - Book Review
‡
Learning to Spend Money Efficiently
Children
Enjoying Life
---
Did you enjoy this article? Share it with your friends:
---